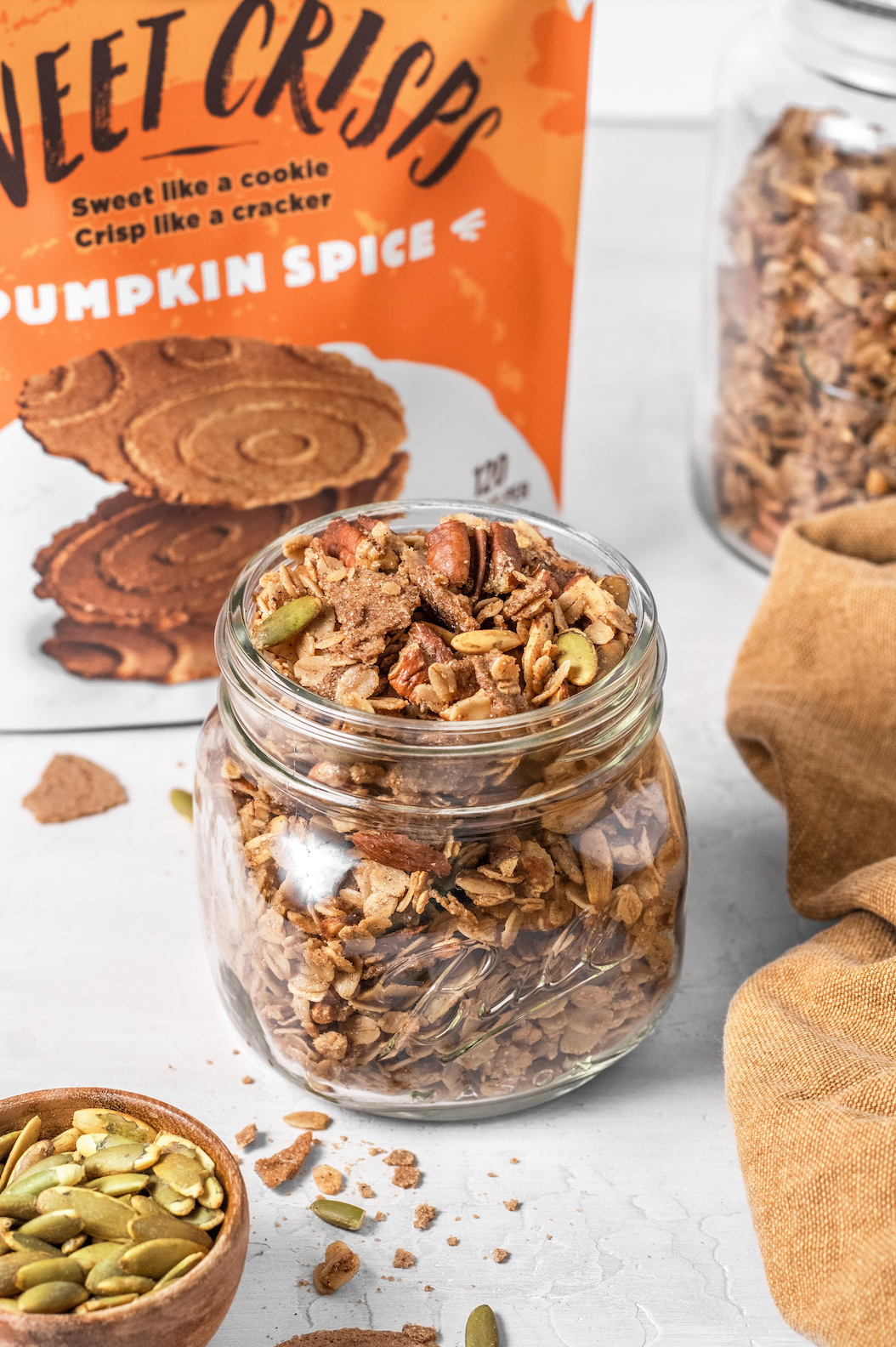 Pumpkin Spice Granola
Spice up your fall snacking with this deliciously seasonal Pumpkin Spice granola using 34° Pumpkin Spice Sweet Crisps.
Ingredients
1/2 cup (50 grams) 34º Pumpkin Spice Sweet Crisps, crushed

2 cups (160 grams) rolled oats

1/2 cup (57 grams) pecans

1/2 cup (43 grams) sliced almonds

1/4 cup (30 grams) pumpkin seeds

1/4 cup (53 grams) brown sugar

2 teaspoons pumpkin spice

pinch of salt

1/4 cup (50 grams) canola oil

1/4 cup (78 grams) maple syrup or honey
Directions
Preheat the oven to 250ºF and line a large baking sheet with parchment paper.

In a small bowl, gently crush the Pumpkin Spice Sweet Crisps until reduced to roughly a quarter of their size. 

In a large bowl, toss the crushed Pumpkin Spice Sweet Crisps, oats, pecans, almonds, pumpkin seeds, brown sugar, pumpkin spice, and salt. 

Add the canola oil and maple syrup. Mix thoroughly until all oats and nuts are evenly coated. 

Spread the mixture on the lined baking sheet in one even layer. 

Bake for 1 hour, stirring halfway through. For a more chunky granola, press and flatten the mixture slightly after stirring.

Cool the granola on the baking sheet for at least 30 minutes to allow it to set, then break into small pieces and enjoy!